RTAIR × Odori-Dawns-Dance
Presentation: Niwa-Gardd-Garden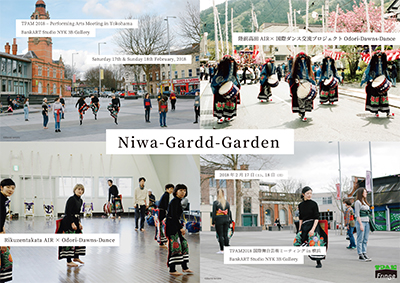 PDF downloard

Culture is an activity; we are already situated within it, we respond to it. Wandering through this garden knowing this, a map of human life, references to culture and dance history (story), our everyday, the experience of the body, a presence and attention, a dimension of being. A space to reflect, leads to the imaginary, a process of becoming; when you enter this garden, wander around unknowing as to what or where it might lead.

TPAM 2018– Tokyo Performing Arts Meeting in Yokohama
at BankART Studio NYK 3B Gallery
Saturday 17th February – 18:30 – 20:00
Sunday 18th February – 14:00 – 15:30
Entry: 1,000 YEN
Booking: rikuzentakata.air@gmail.com

Talk Event at BankART 2F Library
Sunday 18th February 16:00-17:30 with video & photographs
Sioned Huws, Reina Kimura, Honami Shimizu, Rie Wakabayashi and Zan Yamashita
Entry: Free



////////////////////////////////////////////////////////////////////////////////////////



Odori-Dawns-Dance Workshop & Presentation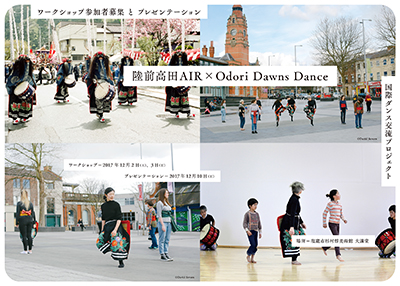 PDF downloard

Workshop
Saturday 2nd & Sunday 3rd December, 2017
10:00 - 17:00
At Hall of Shiogama Sugimura Jun Museum (8-1 Honcho, Shiogama City, Miyagi Prefecture)
Studying choreographic work with Sioned Huws, from the way of a Deer dance practice and individual's personal memories, doesn't matter at any ages and dance background. Booking by email at rikuzentakata.air@gmail.com. The workshop participant will be able to join performance as guest performer next week.

Presentation
Sunday 11th December, 2017
14:00-16:00
At Hall of Shiogama Sugimura Jun Museum
No booking and entrance free.


////////////////////////////////////////////////////////////////////////////////////////



RTAIR2017 Artists' Presentation & Workshop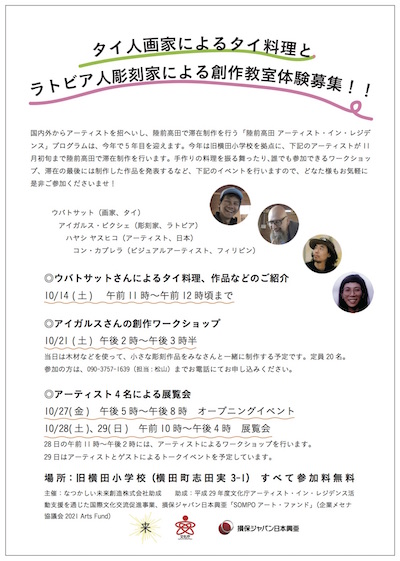 PDF downloard



////////////////////////////////////////////////////////////////////////////////////////



AIR CAMP2017 in Rikuzentakata
Artist-in-Residence Workshop & Forum Asia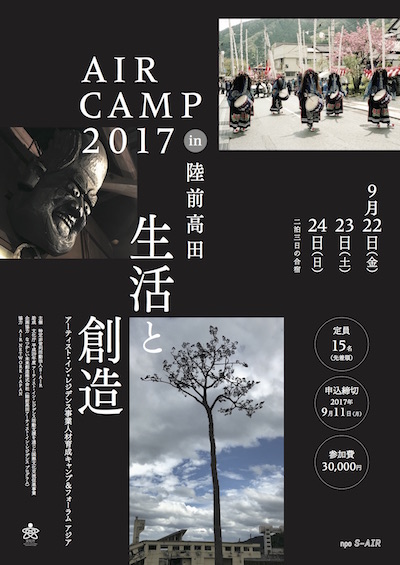 PDF downloard

AIR CAMP is an intensive 3-day workshop focusing on artist-in-residence, in which participants explore and think about the possibility of how diverse residency practices could be. This marks the 3rd year of the workshop, and this year it will take place in Rikuzentakata, a city located in the north east of the mainland Japan.

This year we will focus on 'Everyday Life and Creation'. Rikuzentakata has been making a drastic transition over the past 6 years since it was severely affected by the 2011 Tohoku earthquake and tsunami. In such context, we wanted to go back to the fundamental question about artist-in-residence - how could we create a living and sustain artistic practices? We invite guest lecturers from art organisations in Japan, Indonesia, Thailand and UK to present and introduce their practices and to share their knowledge and expertise in their own countries and regions and how their practises are associated within and engage with their communities and societies. This workshop is organised in partnership with Rikuzentakata AIR, which was initiated to help relieve local people from the affect of the disasters.

Dates:
Friday 22 – Sunday 24 September 2017 (3-day intensive workshop including 2-night lodging)

Participants:
The workshop is open to individuals and organisations, regional authorities, urban develpers, who are running or wish to set up a residency programme in Japan, as well as those who have interests in the relationship between art and community or in art scene of South East Asia.

Capacity:
15 participants

Participation Fee:
¥30,000/person (included: 2 nights stay plus 2 meals, transportation to and from the airport or Ichinoseki station, and the bus trip to the site visits)  After parties will be at your own expense.

Organiser:
NPO S-AIR
Partner Organisation: Natsukashii Mirai Souzou Co., Ltd.(Rikuzentakata Artist-in-Residence Programme)

Guest Lecturers:
Ubatsat (Artist, The Land Foundation), Alec Steadman (Co-Chief Curator, Cemeti – Institute for Art and Society), Nur Akbar Arofatullah (Researcher in Agricultural Biotechnology, Lifepatch - citizen initiative in art, science and technology), Sioned Huws (Dancer, Choreographer), Nobuyuki Sugihara (Art Director of Shinano Primitive Sense Art Festival), Naoya Hatakeyama (Photographer), Teiko Hinuma (Associate Professor, Joshibi University of Art and Design, Programme Director at Rikuzentakata AIR Programme), Jun Matsuyama (Coordinator at Rikuzentakata AIR Programme).




////////////////////////////////////////////////////////////////////////////////////////



Odori-Dawns-Dance Open Workshop & Presentation:
Niwa-Gardd-Garden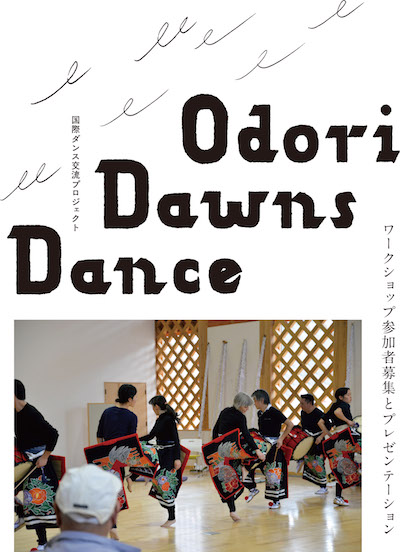 PDF downloard

Odori-Dawns-Dance is three-years international dance dialogue project that intends to create international dance piece by having research of traditional and contemporary dance in three regions of Japan, Tohoku, Kanto and Kansai, has started since 2015 and this year has marked the 2nd year. Welcoming Sioned Huws as an artistic directer, the project purposes to depict new context of performing arts for dance world from the perspective of her prominent direction in rich experience of Japan.

Open Workshop
Saturday 21st & Sunday 22nd January, 2017
At Morishita Studio
10:00-17:00
Studying focusing on one of specific Deer Dance practice "Shouga" that is onomatopoetic drum score to remember the beat. Open to everybody and booking by email at rikuzentakata.air@gmail.com

Presentation
On going performance presentation choreographed by Sioned Huws as middle of the project, the performance is based on structure of Deer dance but across over tradition and contemporary. Each day has different venue to perform, no booking and entrance free.
-First day: Saturday 28th January, 2017
at Morishita Studio, 19:00-21:00
-Second day: Sunday 29th January, 2017
At Tsukishima Shakai Kyouiku Kaikan Hall, 14:00-16:00



////////////////////////////////////////////////////////////////////////////////////////



LANDSCAPE OF MEMORIES
Art Exhibition of Japan with 7 International Artists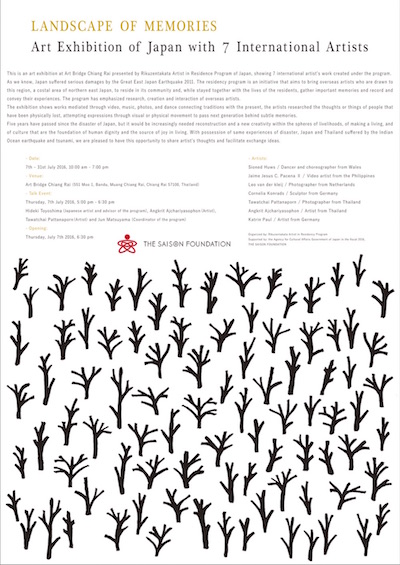 PDF downloard

This is an art exhibition at Art Bridge Chiang Rai presented by Rikuzentakata Artist in Residence Program of Japan, showing 7 international artist's work created under the program.
As we know, Japan suffered serious damages by the Great East Japan Earthquake 2011. The residency program is an initiative that aims to bring overseas artists who are drawn to this region, a costal area of northern east Japan, to reside in its community and, while stayed together with the lives of the residents, gather important memories and record and convey their experiences. The program has emphasized research, creation and interaction of overseas artists.
The exhibition shows works mediated through video, music, photos, and dance connecting traditions with the present, the artists researched the thoughts or things of people that have been physically lost, attempting expressions through visual or physical movement to pass next generation behind subtle memories.
Five years have passed since the disaster of Japan, but it would be increasingly needed reconstruction and a new creativity within the spheres of livelihoods, of making a living, and of culture that are the foundation of human dignity and the source of joy in living. With possession of same experiences of disaster, Japan and Thailand suffered by the Indian Ocean earthquake and tsunami, we are pleased to have this opportunity to share artist's thoughts and facilitate exchange ideas.


Date:
July 7 - 31, 2016, 10:00 am - 7:00 pm

Venue:
ArtBridgeChiangRai
(551 Moo 1, Bandu, Muang Chiang Rai, Chiang Rai 57100, Thailand‬)

Talk Event:
July 7, Thursday, 2016, 5:00 pm - 6:30 pm

Hideki Toyoshima (Artist, designer and adviser of Rikuzentakata AIR Program)
Angkrit Ajchariyasophon (Artist)
Tawatchai Pattanaporn (Artist)
Jun Matsuyama (Program coordinator of Rikuzentakata AIR Program)

Opening:
July 7, Thursday, 2016, 6:30 pm -

Artist:
Sioned Huws / Dancer and choreographer from Wales
Jaime Jesus C. Pacena Ⅱ / Video artist from the Philippines
Leo van der kleij / Photographer from Netherlands
Cornelia Konrads / Sculptor from Germany
Tawatchai Pattanaporn / Photographer from Thailand
Angkrit Ajchariyasophon / Artist from Thailand
Katrin Paul / Artist from Germany



////////////////////////////////////////////////////////////////////////////////////////



Open Call: RIKUZENTAKATA MEETING for Future
March 23,Wednesday - 25, Friday, 2016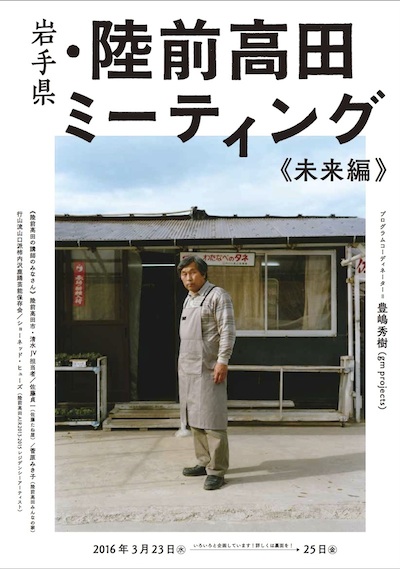 PDF downloard

We has initiated new project towards future in 2013. From the angle of art, architecture and design, we would like to embody the place where everybody can draw own future at Rikuzentakata. The third time event from 2014 RIKUZENTAKATA MEETING for Future sets 2 themes 'making' and 'thinking', touring around Rikuzentakata and meeting with people, try to find out commitment, which can not be divided between art and living, and trying to have action on your life. This 3 days program is open for everybody interested in art, management work and even just Rikuzentakata. We are looking forward to meeting here, rich nature Rikuzentakata city where beautiful sea and mountain are waiting.
From Teiko Hinuma, Rikuzentakata AIR Program director

Date:
March 23,Wednesday - 25, Friday, 2016

Program coordinator:
Hideki Toyoshima, gm projects

People in Rikuzentakata:
Shimizu JV, Construction Company
Teiichi Sato, Sato seed shop owner
Mikiko Sugawara, maneger of Home for All in Rikuzentakata
Gyozan school Yamaguchi sect Kakinaizawa Deer dance performing arts preservation society
Sioned Huws, Rikuzentakata AIR 2013-2015 residency artist

Conditions:
*Participation fee: 35,000 yen (30,000 yen / student)
Including 3 days accommodation, meals. Participant must pay drinking and only second night dinner.
*Number of participants: 10 people
The accommodation doesn't have any single room. Please note that if you apply alone you will stay with others.
*Transport: Please come to JR Mizusawa-esashi station in Iwate by 11:30 a.m. on 23 March, then, we are going together by bus. The tour ends up at JR Mizusawa-esashi station 4:30 p.m. on 25th.
*Belongings to be carried: writing materials, rain gear, toothbrush, pajama, and clothes that are easy to move for second day trip.
*Accommodation: Hakoneyama Terrace (1-232 Otomo town, Rikuzentakata city / Tel 0192-22-7088)
*Application: Please apply by E-mail with your name, mobile number, sex, if you have accompany all those information of your accompany as well.
matsujun@natsu-mi.jp (Contact person: Matsuyama)



////////////////////////////////////////////////////////////////////////////////////////



Rikuzentakata AIR Program 2013-2015 Exhibition
"A scene of memories, headed for a reminiscent future, exploring with artists, Rikuzentakata and Tohoku"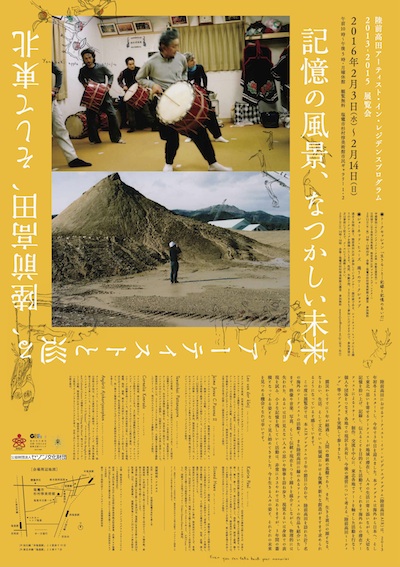 PDF downloard

This is the third year of Rikuzentakata Artist in Residence Program since initiated in early winter 2013. The program is an initiative that aims to bring overseas artists who are drawn to Tohoku to reside in its community and, while nestled among the lives of the residents, gather important memories and record and convey their experiences. The program has emphasized research, creation and interaction of overseas artists and furthermore, had such events 'Rikuzentakata Meeting' that shared the situations of after the disaster, and considered management by connecting people who are working based on art in Tohoku. Almost five years have passed, but it would be increasingly needed reconstruction and a new creativity within the spheres of livelihoods, of making a living, and of culture that are the foundation of human dignity and the source of joy in living. The Exhibition which retrospective looks into past three years introduces totally 7 artists' work visited Rikuzentakata ever, and one Japanese artist unit had based in Rikuzentakata. Mediated through video, music, photos, and dance connecting traditions with the present, the artists researched the thoughts or things of people that have been physically lost, attempting expressions through visual or physical movement to leave behind subtle memories. All those attempting are modest, however the accumulation of three years are gradually forming something visible. We hope it will be the opportunity to be able to look at each future.

Date:
February 3 – 14, 2016, closed on Monday, 10:00 A.M. – 5:00 P.M.

Venue:
Sugimura Jun Museum, Siogama city, Miyagi, Japan

Artist:
Leo van der kleij / Netherlands
Jaime Jesus C. Pacena Ⅱ / Philippine
Tawatchai Pattanaporn / Thailand
Cornelia Konrads / Germany
Angkrit Ajchariyasophon / Thailand
Katrin Paul / Germany
Sioned Huws / Wales
Haruka Komori + Natsumi Seo / Japan

Event:
- Talk session "To live-between record and memory"
Kenji Kai, Curator of Sendai Mediatheque
Teiko Hinuma, Director of Rikuzentakata Artist in Residence Program
February 11, 2:00 – 3:30 P.M.
- Dance Workshop by Sioned Huws
February 7, 2:00 – 4:00 P.M.



////////////////////////////////////////////////////////////////////////////////////////



Open Application: RIKUZENTAKATA MEETING
- What is behind the creation? -
March 20, Friday - March 22, Sunday, 2015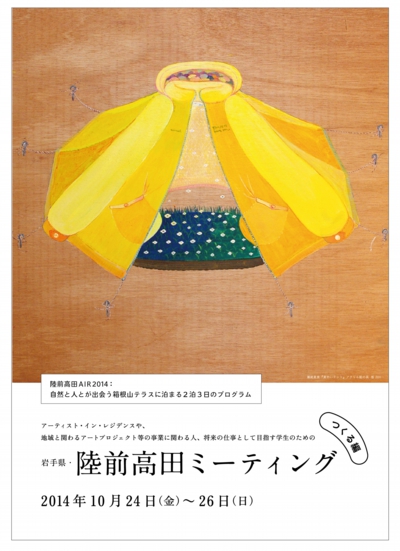 PDF downloard

Rikuzentakata Artist in Residence program 2014 has a event "RIKUZENTAKATA MEETING -What is behind the creation?-" for people who are working in art program or for students who want to work in art program it the future. In this time with setting up a theme of "to create", participants can experience several workshops hosted by local people in Rikuzentakata. The program asks totally 11 of different individual or group to be a teacher as in field of their practice, participants can work with them together for a while. Trough the program you can figure out what is the principal of creation that when you work in art program you must to be aware of, something floating under our ordinary daily life. Furthermore, participants can learn technically how you can manage artist in residency program lectured by our residency director Teiko Hinuma.



////////////////////////////////////////////////////////////////////////////////////////



Open Application: dance workshop by Sioned Huws in Iwaki
November 8, 9, 15, 16 in 2014
All day open from 10.00 am till 4.00 pm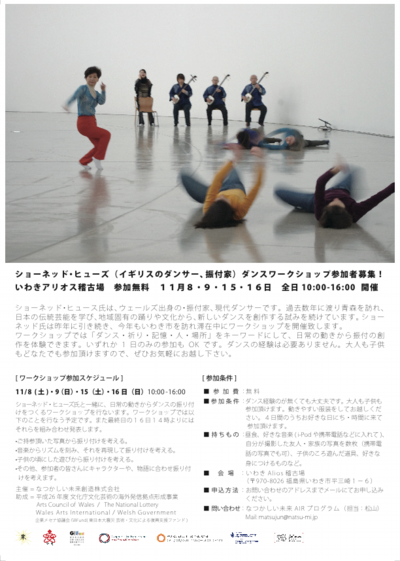 PDF downloard

Dance workshop of Rikuzentakata AIR residency artist Sioned Huws
Venue: Practice room in Iwaki Alios, Admission free
Sioned Huws is a choreographer and dancer from Wales. She has visited Aomori Japan several time, learned Japanese Traditional dance and continues to create new dance by experience of the culture and its dance. Huws visits again Iwaki and has workshop as following 2013. In the workshop everyone can join and experience how choreograph works in daily life with the keyword of "Dance, pray, memory, person, place". Even only one day join is ok, no matter if you don't have dance practice, welcome to any ages children to adult, please feel free to participate!


////////////////////////////////////////////////////////////////////////////////////////



Open application for RIKUZENTAKATA MEETING
- How to connect art network -
November 7, Friday - November 9, Sunday, 2014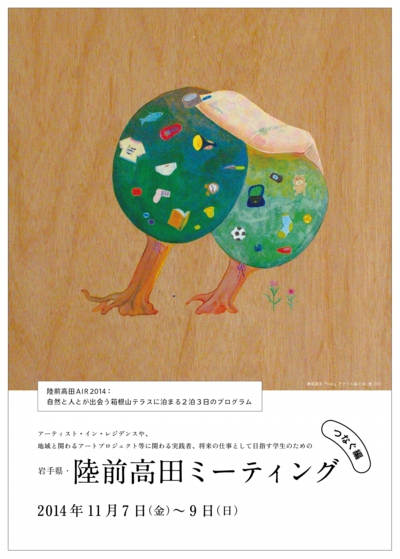 PDF downloard

It is a program for students who want to work in artist in residency program, art center in the future and for people presently working in art program in local community. Participants can stay for 2 nights at Hakoneyama terrace, which is surrounded by beautiful nature in Rikuzentakata city. The program invites art directors who have been tackling with their practical way, actions of support based on art activities in Tohoku area of Japan. Also invites special guests from Kobe, where there was disaster in 1995, think together through lecture, workshop and discussion of what art will be able to do for those social and environmental incident.